General ECC News
Wednesday, 23 November 2011 05:48
During last week's episode of The Sound Of Plaid TradeMark G. thought that a good future show theme might be all the songs about Johnny: Johnny B. Goode, When Johnny Comes Marching Home, Johnny Are You Queer... very complex fellow, Johnny. And then we thought we'd ask for help. And we got it: nearly one hundred replies and comments came from listeners with requests and suggestions -- wow! Johnny Got A Boom Boom, Johnny B. Rotten, The Ballad Of Johnny Cool, John E. Smoke, Johnny Behind The Deuce... that Johnny has done it all.
Thanks to everyone who wrote in. We've collected most of them together and we're ready to play them for you tomorrow (2011.11.24) on The Sound Of Plaid as we honor the everyman legend of lyrics, Johnny. Many chances to hear the show, and if you can't make the times below, you can hear it at The Sound Of Plaid Archives.
BONUS! Big City Orchestra's uBradio Salon (or something like it) is joining Radio Valencia's programming, and to say thanks (it is Thanksgiving Day, after all) they'll broadcast a marathon all-nighter Turntable Turkey Throwdown. Since we're no strangers to uBradio, we'll join in for some of the fun along with guests Ferrara Brain Pan and hopefully Univac. But since we're now on east coast time, we'll only make a few of the beginning hours of the 8p-4a PST broadcast.
Friday, 18 November 2011 17:45
If you're not familiar with mashup mothership Bootie, get familiar. In San Francisco they're somewhat ubiquitous, what with their weekly sold-out mashup nights at the DNA Lounge... not to mention the dozen+ other party cities on their roster too. But for those (like us, now) who aren't in any of those cities, cast your gaze upon their online presence: their website hosts free downloads of annual CDs, webcasts, monthly Top 10s and more. It's that last one which caught our attention... or should we say, caught theirs:
The ECC's "Stairway To Britney" made November 2011's Top 15 list!
Download that and much more from them. enjoy.
Wednesday, 31 August 2011 04:27
As suggested during last week's Sound Of Plaid, this week we dissect The Grunt. If you don't recognize this instrumental track of The JB's (James Brown's band) by name, you'll definitely recognize its opening trumpet build and other bits throughout. Those samples figure prominently in music from Black-Eyed Peas, Eric B & Rakim, Pharcyde, Ultramagnetic MC's, Salt-n-Pepa, and many others -- in fact, Public Enemy samples it prominently on no less than three tracks on their masterwork It Takes A Nation Of Millions. This week, we explore The Grunt, it's many gruntling offspring, plus a surprise ending about The Grunt's unoriginal origins.
Wednesday, 01 June 2011 10:13
Show archive available -- download or listen now: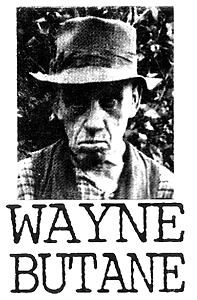 Our WART (Weird America Road Trip) brings us to Phoenix Arizona as we visit Wayne Butane, a longtime favorite of ours! Wayne's slapstick cutups have tickled us for years, and as our guest of the show he plays us songs he likes from Cassette Boy, Zoogz Rift, Captain Beefheart, Wayne Butane, Natalie Portman, Solange Knowles, Russ Stedman, Creepy Jesus, Kapela ze Wsi Warszawa, Ronnie Dio & The Prophets, Jack White, Botho Lucas, D Cups, Company Car, Marty & Elayne, John Landecker, The Love Workshop, Negativland, St. Cecelia, Rupert Holmes, and Michael Oliver & Go Dog Go.
Page 10 of 22