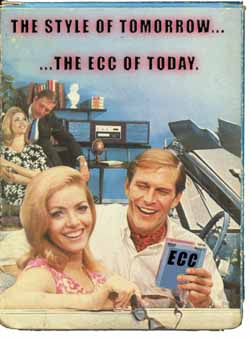 So Just What IS This "Evolution Control Committee" Thing Anyways?
Take away the obvious explanation that we're here to control the evolutionary process... take away the cryptic platitudes about how we're like "changing the flat tire with a new flat tire"... strip it bare, and what you have left is still very cryptic indeed.
"Copyright Violation for the Nation."
The Evolution Control Committee is a "band", but probably like none you've ever seen or heard. No drums. No guitar. No bass. The ECC deals with the budding field of "Media Ecology" -- recycling the sounds around you. Sound collage, media pranksterism, a cavalcade of sampling... in the world of The ECC, Public Enemy duke it out with Herb Alpert while Dan Rather is the new frontman for AC/DC. But it's not rock-n-roll. Nor is it rap or punk. It's not techno or industrial, though there are hints of it. It is humorous without being comedy, sample-based without being techno, and brainy without being arty.
Past Releases: "Rocked By Rape" 7" (Eerie Materials), "Double The Phat and Still Tasteless" CD (ECC), "The Whipped Cream Mixes" 7" (Eerie Materials), etc.
Compilation Appearances: Cookbook Compilation (Eenie Meenie), Deconstructing Beck (Illegal Arts), etoy.LULLABIES (etoy), etc.
Live Performances: Royal Festival Hall (London, England), TINA/ElectroFringe Festival (Newcastle, Australia), Creativo! Conference (Milan, Italy), Hamburg/Stuttgart/Bielefeld Germany, WFMU-FM, NYC, San Francisco, Columbus OH

Contact: Mark Gunderson
Address:
The Evolution Control Committee
P.O. Box 10391
Columbus, OH 43201-7391
USA
Phone & Fax: 614-262-0654
Email: ecc@pobox.com
Web: http://evolution-control.com
Press Info: http://evolution-control.com/press
Recent Press/Airplay: Spin Magazine (again), NPR's All Things Considered, Cool & Strange Music Magazine, Columbus Dispatch, Bizarre Magazine UK (3 times), C-SPAN
Has Remixed:
Legally: The New Bomb Turks, DJ Spooky, Realistic, Data Bank A, etc.
Illegally: AC/DC, Public Enemy, Herb Alpert, Beck, Queen, etc.