The Virtual Gunderphone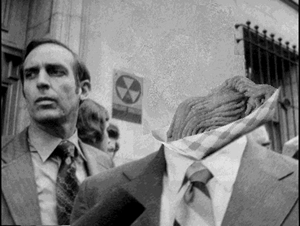 "Welcome to the incredibly illegal world of the Evolution Control Committee. Attractively packaged in an 8-track cassette shell, this fourteen-lawsuit opus takes up the torch Bono knocked from Negativland's hands." (Alternative Press, 2/95)
In 1994 The Evolution Control Committee made it's first distinct strike in the arena of sample-based music. In response to John Oswald's incredible Plunderphonic, the two Gundersons of The Evolution Control Committee thought the time was right for Gunderphonic,a cassette of various tape manipulations and illegal music.
They were right. At least 700 handmade cassette copies later, Gunderphonic has received dozens of extremely favorable reviews, numerous tracks have landed on CD compilations, and two tracks wound up as a legendary 7" single release on Eerie Materials. The 7" is now often credited as the origins of the UK mash-up/bastard pop/bootlegger music movement. Gunderphonic was distinctive right from the get-go: the cassette was packaged in an 8-track tape shell, hollowed out and hinged to open like a cosmetic case. But the real distinction begins when you press PLAY -- only 34 minutes long, but dense. These are not songs extracted from the better moments of a jam session, they're well planned, intricate sound collages, the kind that you hear once and they bounce around your brain for days.
The cassette is no longer available, but the whole album in MP3 format is. Download it, trade it, CD-R it, whatever you like; all we ask is that you credit all tracks to us (The Evolution Control Committee) and preferably provide a link back to this site (evolution-control.com). Much thanks to detritus.net for having hosted Gunderphonic (as well as the whole ECC site) for so many years.
1. Rebel Without A Pause (Whipped Cream
Mix) 2:30
2. Whole Lotta Royalty Payments 6:30
3. Cohan's Capers 1:00
4. How Low Can You Go? 1:45
5. Cry-Baby Duck 1:00
6. The Acid Family 3:00
7. Bush Speech (Corrected) (Part 1) 1:00
8. Industrial Poem 1:30
9. By The Time I Get To Arizona (Whipped
Cream Mix) 1:30
10. The Mighty Hamburger 2:15
11. Hurdy-Gurdy Men 3:00
12. "But I Don't Believe In Evolution!" 2:15
13. Bush Speech (Corrected) (Part 2) 1:00
14. Not Only In... 4:15
Cover graphic (54k GIF)
:audio bibliography:: [1] Public Enemy, "The Rhythm, The Rebel", Prophets Of Rage EP. Herb Alpert and the Tijuana Brass, "Bittersweet Samba", Whipped Cream and Other Delights. [2] Led Zepplin, various, Led Zepplin (Box Set). [3] Unknown; thought to be flexi-disc advertisement for Reader's Digest of Time-Life collection of early century music. [4] Unknown. [5] Magic Media, "Cry-Baby Duck", children's cassette. [6] Focus on the Family, "Adventures in Odyssey: Our Best Vacation Ever", found cassette. [7] George Bush, "First State Of The Union Address", nationwide broadcast. [8] Poem unknown. United States Steel, various, The Sounds of Steelmaking. [9] Public Enemy, "Arizona Assassination Attempt Acca-Double Dub", Shut Em Down EP. Herb Alpert and the Tijuana Brass, "Whipped Cream", Whipped Cream and Other Delights. [10] Chet Huntley, various, radio segment demonstration record. [11] Donovan, "Hurdy-Gurdy Man", Donovan's Greatest Hits. Butthole Surfers, "Hurdy-Gurdy Man", PIOUHGD. [12] Focus on the Family, "Adventures in Odyssey: Choices", Puns, Parables, and Perilous Predicaments. [13] See [7]. [14] U2, "Where The Streets Have No Name", The Joshua Tree. All samples used without permission. This recording was created by The Evolution Control Committee primarily on the $150 Teac W-450R dual cassette deck. Compact Disctructions were used in the creation of tracks 2 and 4. A sampler was used on track 2.