Concert and Performance Dates
Wednesday, 20 July 2011 05:55
Hello Columbus! No ECC shows in the near future, as we spend some serious time setting up operations back in Columbus Ohio. However, we couldn't turn down the opportunity to DJ the Game Show 2 event at the Columbus Museum of Art. The Game Show is all about creativity, testing contestants from the audience in their abilities to create everything from beards to worlds, while The ECC's TradeMark G. spins music from funk to 60's electronica to 70's German advertising music.
Sunday, 05 June 2011 06:51
As we continue our WART (Weird America Road Trip) we find ourselves approaching The End: the club that is, in Nashville. Thanks to the efforts of PimpDaddySupreme, The ECC will perform for the first time in Nashville at The End on Saturday June 18 with the likes of stAllio!, Quiet Entertainer, and DJ Empirical. And it's Frilly's birthday too! If you're in the Nashville area, don't miss the only show in the region!
Friday, 06 May 2011 14:37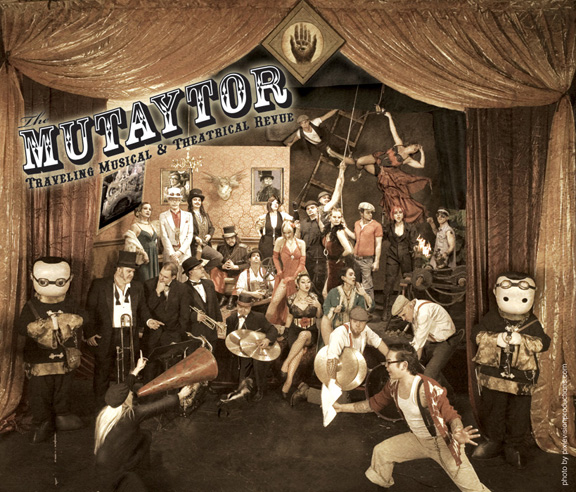 The ECC pauses their easterly relocation road trip for a performance in Los Angeles! Our buddies in Mutaytor have set up a grand spectacle of a show at the Echoplex for Friday the 13th (uh-oh) of May. Our previous show at the Echoplex was with Bootie LA and made for a seriously off the hook show -- watch our video of it and see for yourself! Mutaytor is always good for a sock-knocking-off show that never goes halfway. But a night of Mutaytor AND The ECC? Unmissable!
WHAT: The ECC with Mutaytor
WHEN: Friday, May 13th 2011 @ 8:30pm (note early showtime!)
WHERE: Echoplex / 1154 Glendale Blvd / Los Angeles CA
HOW MUCH: $12 (18 and over)
LINKS:
Mutaytor: http://mutaytor.com
Echoplex: http://www.attheecho.com/2011/04/21/friday-05-13-11-mutaytor-echoplex-2/
Tickets: http://www.ticketweb.com/t3/sale/SaleEventDetail?dispatch=loadSelectionData&eventId=3655465
Tuesday, 26 April 2011 07:55
In 2004, The ECC moved headquarters from the bustling metropolis of Columbus, Ohio to the slightly more bustling mega-metropolis of San Francisco, California. It's been a good run, but for such an arts-friendly city, San Francisco is pretty artist-unfriendly. So until the prices fall out of orbit, The ECC is relocating to where things are (comparatively) half-price: back to Columbus, Ohio.
For one last Bay Area hurrah, join The ECC for our farewell show at Il Pirata this weekend for LoveTech.
"LoveTech is a community supporting the pioneers of live electronic musicianship. We combine musical innovation and inspired celebration to produce an immersive & heartfelt multi-sensory experience. Our engaging playshops, interactive art, and hands-on Digital Jam Lounge help create an optimal environment for education and collaboration. Discover the future of music technology & live performance! LoveTech will blow your mind, shake your ass, and inspire your creative soul."
Definitely DIY, and definitely the right venue for a send-off. So join us along with Janaka Selekta, Seventh Swami, Goyopod, and Raja The Resident Alien for one last ECC mashdown before we hit the road. And by the way, our road tour will have us hitting some interesting roadside attractions... watch for photos and stories posted on our ECC website, Facebook page, YouTube channel, and elsewhere. We'll also continue our Sound Of Plaid radio shows while on the road as well.
Bye bye, San Francisco! We'll be back... we've played MANY shows before moving to SF, and we'll play many more after we've left.
LINKS:
LoveTech: http://lovetechsf.com/
Facebook Event: http://www.facebook.com/event.php?eid=175934215792280
Il Pirata: http://www.ilpiratasf.com/
Thursday, 07 April 2011 12:35
Radio Valencia has been on the air for a year now, carrying our Sound Of Plaid show as well as 43 others. With the unexpected closure of KUSF, Radio Valencia is one of the few remaining sources of independent and adventurous music to be heard on the San Francisco FM dial.
They've got a great thing going and want to make it even better, with a sorely needed new mixing board and some better equipment all around. Enter Chicken John, a "born showman" (his words) and a person with a scheme for every situation. His idea: a Radio Dinner Theatre with 5 courses and 5 radio performances. The food will be good, the performances will be even better, and your $40 will benefit a radio station that deserves that and more!
ECC will participate with a tribute to Dr. Demento who just celebrated his 70th birthday earlier this week, but whose radio show left the radio waves after 35 years only this January. Space and food is VERY limited, so buy your tickets in advance!
RV Page: http://radiovalencia.fm/blog/2011/04/07/show-details-menu-for-our-big-benefit-on-friday-april-8/
Facebook Event: http://www.facebook.com/event.php?eid=139917829412084
Tickets: http://www.brownpapertickets.com/event/169001
More details about the event:
Page 5 of 14