Concert and Performance Dates
Friday, 06 October 2017 04:46
Last-minute notice:
Friday 10/06/2017: ECC performs at the resurrection of Cafe Ashtray and Acme Art Company (doors 7pm; ECC @ 9pm)
Sat 10/07 & Sun 10/08: The ECC's TradeMark G. and Assistant Frillypants (Christy) open the home studio for the Columbus Open Studios & Stage tour (11a - 5p)
Thursday, 25 June 2015 12:56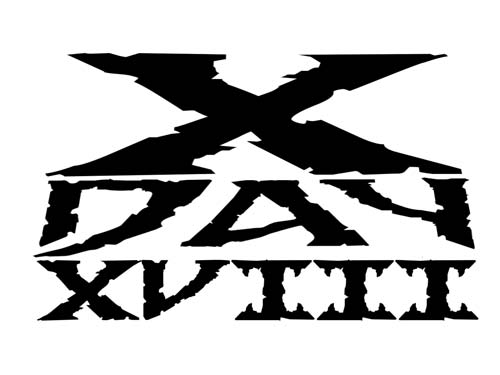 It always seemed like those fans of The Evolution Control Committee would have good overlap with The Church Of The SubGenius. The long-running clench-klatch of Bob"-worshippers has been at it for decades and since 1998 have been expecting X-Day any year now, when the SubGenius faithful will be swept up in party UFOs while the remaining pinks and normals are clear-cut wholesale from the earth.
This year is 18X-Day and The Evolution Control Committee will join the throngs with our songs (again, that is -- we've been doing this for a few years now). Hopefully the extra noise will help attract the UFOs for real this year; past years have fallen well short of the "Whole Camp Missing" headline desired for July 5 (presumably the date's certain, just not the year). Regardless of success, it's a lot like sex: it's fun just trying. And with bedmates like The Amino Acids, Ask Dr. Hal, Mystery Penis Of America, and Rev. Suzie The Fluzie, how can you miss?
WHAT: The Church Of The SubGenius X-Day XVIII
WHEN: June 30 - July 5, 2015 (ECC performs Friday July 3 at 10pm)
WHERE: Wisteria Campground, southern Ohio
HOW MUCH: (see their web page)
And then there's Starwood, the even-longer-running (35 years!) pagan festival which is conveniently at the same campground the following weekend. SubGenius types have suggested there's good reason to think that the Starwood types would appreciate The ECC's participation so this year we're taking the hint. The ECC will perform at Starwood and additionally lead a workshop called "How To Reproduce Without Having Children".
WHAT: Starwood 35
WHEN: July 7 - July 13, 2015
WHERE: Wisteria Campground, southern Ohio
HOW MUCH: (see their tickets page)
Sunday, 23 November 2014 17:32
Pleased to participate in CENART's El Error Maquinico (The Machinic Error) festival! In addition to assisting Ken Rinaldo with the debut of the new 3 Story Robot I'm also pleased to be a last-minute musical addition to their opening event, performing & DJing a bit with my nanoTar. Pop down to Mexico City and join us!
Monday, 16 September 2013 11:50
The Ingenuity Festival Cleveland returns
...and so does The ECC
The Evolution Control Committee has had great times performing at Cleveland's great IngenuityFest art & technology festival in the past (2008, 2009, 2011...) so when their call for artists came out for this year's event we applied, but then wondered -- what haven't we done already?
They've invited us so often before that we've performed every kind of show we've ever made (except for our radio show... hmmm) and we'd rather not repeat ourselves. Then we remembered our great time earlier this year at Columbus Museum of Art's Connector Series, letting anybody and everybody come up to play with our custom-built music controllers, devices, and toys... ahhhh, good times. Yes! That's it!
So this coming weekend The ECC hauls up a full load of tech magic for you, yes YOU, to play with. Ever wanted to try your hand at our amazing VidiMasher 3000 (from our The Wheel Of Mashup shows)? Or the Thimbletron? The Object Turntable? Come to Cleveland and play with these and more!
WHAT: IngenuityFest 2013 Art & Technology Festival
WHEN: This weekend, Saturday and Sunday (we are unlikely to make Friday)
:: Saturday, September 21 - Noon to Midnight (or as long as we can last)
:::: Sunday, September 22 - Noon to 6pm
WHERE: Lakefront Docks 30 & 32 (near Browns Stadium), Cleveland Ohio (map)
TICKETS: FREE!
Wednesday, 05 June 2013 09:02
Last year The ECC's TradeMark G. created a composition for church bells which played throughout October 2012, climaxing in a Church Bell Flash Mob that added a beat-matched electronic track DJ'd live from the street below... unique, to say the least. That was part of the great Finding Time: Columbus Public Art 2012 project which included different bell compositions every month during 2012.
This Sunday there will be a concert of the six pieces from the last half of the year, featuring compositions by Derek DiCenzo, Brian Harnetty, Bobby Floyd and others. For ours we'll be restaging the electronic component as we did in October, a live duet of electronics on the street with the bells in the tower. If you missed it at the flash mob, here's one last chance! Don't worry about costumes; just come, listen, and enjoy.
WHAT: "Finding Chime": The ECC Church Bell mashup live
WHEN: This Sunday 2013.06.09 / 12:15pm
WHERE: Trinity Episcopal Church / corner of Broad & 3rd Streets / Columbus, OH
HOW MUCH: Free!
Page 1 of 14